Harold Pollack is out with a new book on personal finance titled The Index Card: Why Personal Finance Doesn't Have to Be Complicated. It's a great book, particularly for those light on knowledge of personal finance. The book is well previewed by Pollack's recent The Atlantic article on the book. Additionally, something about the union of personal finance and index cards reminds me of the outstanding interview of Megan McArdle by Russ Roberts of EconTalk on Debt, Budgeting, and Self-Restraint. As my friend Caleb Brown has said regarding budget and debt reduction taken on by him and his wife (in 22 months they paid off all $138,875.60 they had in debt): "Many people have asked us for some "tips" or "secrets" to do what we did and I have some disappointing news: There is no secret. Most of the advice you've read about budgeting and saving was correct. It's you, the income you earn, and the spending decisions you make. That's it. It's not complicated, just difficult."
Via FlowingData, an outstanding interactive data visualization on causes of death by age, gender, and race. Picture embedded but click through here for interactive functionality.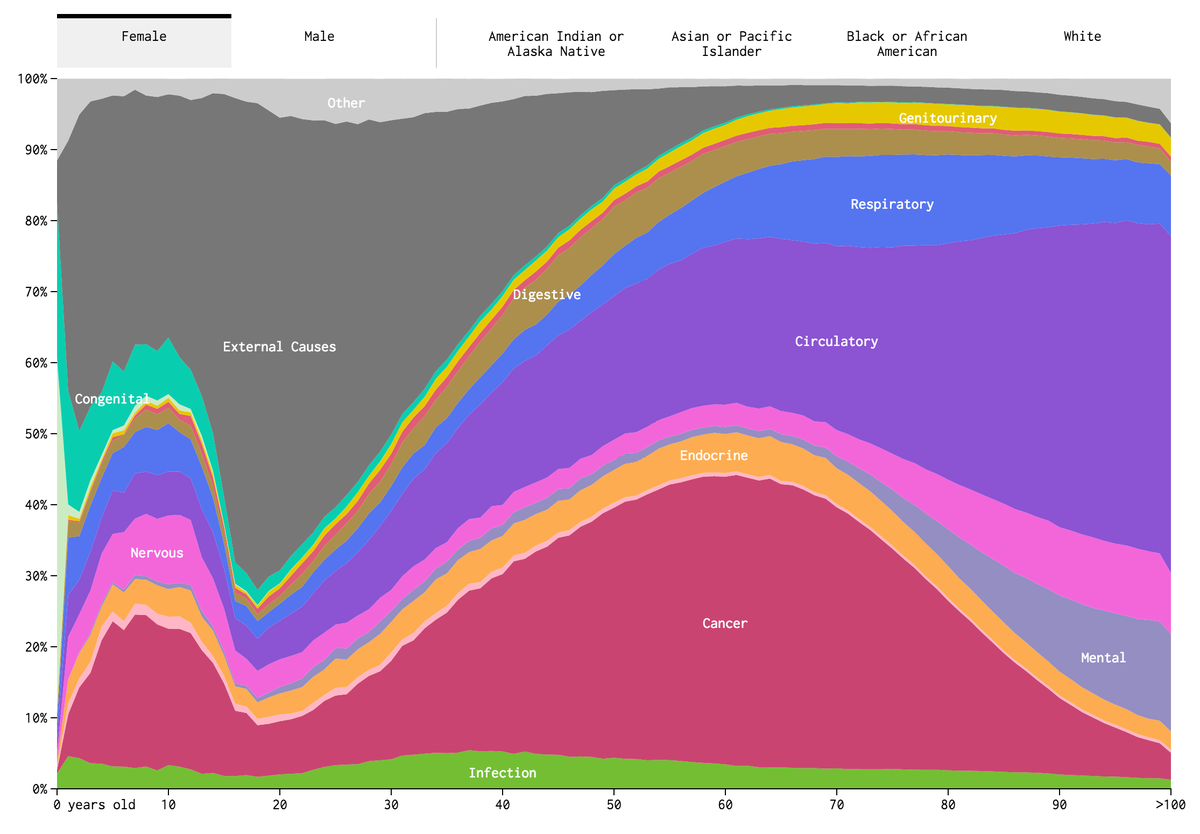 Via NinjaEconomist, a few interesting articles on online dating. First, via the Washington Post, early January is apparently the high point for online dating by most every metric, as well as porn searches, sales of condoms, and conceptions. MarginalRevolution discusses those facts. Second, another post from MarginalRevolution on whether Tinder and online dating generally increases "assortative mating," a concept which Tyler Cowen recently discussed in the NYTimes. NinjaEconomist then shares interesting follow-up comments on Tinder and assortative dating. Last, from the first Washington Post link, a chart on Facebook relationship status changes by month.
Quartz is out with of their so-called "Casties," which are their various awards for podcasts of the year. The list is great and two favorites of mine were recognized. First, Tyler Cowen's interview with Jeff Sach was named the best podcast episode on business and economics. Interestingly, Tyler Cowen has an upcoming conversation as part of the same Mercatus Center series with Kareem Abdul-Jabbar. Cowen recently put out an outstanding podcast on "The Rise and Fall of the Chinese Economy" which is deeply insightful on the current circumstances in the nation. Russ Roberts' EconTalk podcast was named the best overall podcast on business and economics. There is hardly ever an episode of EconTalk that is not worth reading in its entirely. The series recently celebrated its 500th episode. Three of my favorite episodes from the last year here, here, and here.
Over one generation of Mothers, the cesarean section rate has gone up 500%, today standing at 1 in 3 births. An interesting video and essay from the Harvard Medical School, focusing on the work of Dr. Neel Shah, founder of Cost of Care.
Conrad Hackett shares the percent of employees working 50 hours or more a week on average. Second, from Forbes, countries with the most annual working hours. Both embedded below.